This panel allows users to step back (trim) or extend the boundaries of a surface. Note you can easily experiment with these values to determine which parameter in U or V correspond to which edges of a surface.
U: Minimum and maximum U parameters for Trim/Extend.
V: Minimum and maximum V parameters for Trim/Extend.

Extension Type: There are several extension types to choose from:
G1_Tangent_Extension, G1_Ruled_Extension, G2_Curvature_Extension, and G3_Extensions. The higher G2 and G3 extensions will extend the surface keeping a higher continuity but have the side effect that they may look stranger when the extension distance is somewhat larger (i.e. more than 50% outside of the original boundary). The G1 extension types tend to behave better at larger extension values.

Note: these values are available for dynamic editing through the right mouse subobject editing menus for Pwr_Blend, Pwr_RailSweep, and Pwr_CrnrBlnd. From the right mouse Quad menu, choose the "UV Trimming" option to begin editing. The UV trimming values can be conveniently edited by selecting the large green rectangles shown on the edges of the surface. Moving them allows you to dynamically trim back the surface. You may also edit the shape of the trimming boundary by pulling on the control points of the UV Boundary Curves which are the smaller of the green rectangles. Each boundary is defined by a 4 point NURBS curve. See below for examples:

Trimming Boundary Using Large Trim Boxes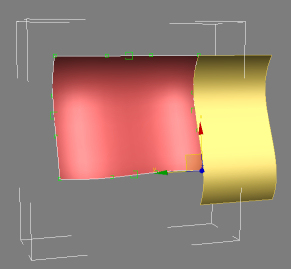 Trimming Boundary Using Corner Control Point

Trimming Boundary Using Interior Control Point