nPower Software announces native translation of Catia V5 files for 3ds Max / VIZ

The Premier Solution for Design Visualization!
---
San Diego, November 1, 2004 - nPower Software (a division of IntegrityWare) announces native translation of Catia V5 files into 3ds Max / Viz. Power CatiaToMax greatly improves the work flow efficiency for design visualization; Catia V5 users no longer have to spend days or weeks translating their high quality surface models into imprecise polygonal models or intermediate formats, and then struggling to generate high quality renderings. Now with Power CatiaToMax, Catia V5 users can import their high quality models directly into 3ds Max / VIZ for high quality rendering, animation, etc. without intermediate formats, and without loss of precision. Instead of importing imprecise polygonal approximations, our native Catia V5 translator leverages IntegrityWare's precise geometric representation to generate extraordinarily smooth, crack free renderings without polygonal artifacts. Power CatiaToMax opens a streamlined portal to the advanced 3D modeling and rendering environment of 3ds Max. Power CatiaToMax combined with the powerful 3D modeling and rendering environment of 3ds Max / VIZ is the premiere solution for Design Visualization of native Catia models. Dealing with large data is very important, and Power CatiaToMax is designed to handle the large data sets typical of CAD models. Power CatiaToMax also contains all the necessary tools to cleanup, prepare and render Catia V5 models.
Power CatiaToMax leverages a state of the art precise CAD geometric modeling kernel (SOLIDS++) that has been integrated into 3ds Max. It performs dynamic tessellation at render time to generate a render mesh with the appropriate level of detail based on the size of the object in the view, eliminating the need for multiple levels of detail. Power CatiaToMax is powered by Datakit's outstanding translation tools for reading native Catia V5 models, and by IntegrityWare's SOLIDS++ geometric modeling kernel.

Power CatiaToMax Features
Native Translation of Catia V4 & V5 Models
Multi-threaded Tessellation
Import Precise Trimmed NURBS
High Quality Mesh Generation
Automatic and Manual Sewing Tools
Tools to quickly orient surfaces
Trim / Un-trim Surfaces
Snapping to Imported Catia V5 Objects
Native Translation of Catia Files
You can now directly import native Catia V5 model files (V4 models were supported with the initial Power CatiaToMax release) for optimum Design Visualization throughput. Maximize your rendering efficiency and quality using the native translation directly into the excellent 3ds Max rendering environment.
Multi-threaded Tessellation
Speed is an important aspect of data translation, and tessellation can be a performance bottleneck for other translation systems. The Power CatiaToMax / Power UGSToMax tessellation engine takes advantage of multiple processors by dividing up the work into separate processes. Tessellation performance will scale with the number of processors available for optimal performance results. The result is a performance improvement of about 2x for dual processors, and about 4x for quad processors.

High Quality Mesh Generation
The user has detailed control over the tessellation quality; he/she can control the level of detail, the maximum edge length, arc length, etc. The resulting images are therefore of the highest possible quality.
Automatic and Manual Sewing Tools
Power CatiaToMax intelligently imports the CAD data, and will automatically sew disconnected surfaces that belong sewn together. Manual sewing is also supported for interactive cleanup.

Editable Brep Object
Like the Max Editable Mesh and Editable Poly commands, the Editable Brep command allows the user to easily manipulate sub-objects of the BREP. For example, you can sew together faces, unify face normals, flip face normals, trim and un-trim, project curves, apply materials to faces, and other editing options. You can trim surfaces by curve projections or surface intersections. One of the great things about Power CatiaToMax is that even when your CAD data is not correct, you can use the powerful Power CatiaToMax editing tools to cleanup the models before rendering or animating.
Snapping to BREPs
Users can intelligently snap to imported BREP objects for editing and cleanup operations. You can snap to edges, faces, vertices, edge midpoint and end points, greatly facilitating associative construction techniques.
How to Get Power CatiaToMax for 3ds Max / Viz
Streamline your CAD visualization workflow with Power CatiaToMax, and unleash the power of your creativity. Power CatiaToMax sells for $2995. It is available for purchase at the nPower Software on-line store (www.nPowerSoftware.com/store.html), from Datakit (www.datakit.com), and through various resellers throughout the world. A free 30 day evaluation copy can be downloaded from the nPower Software web site at www.nPowerSoftware.com.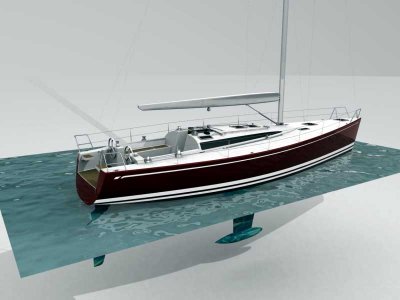 Imported IGES file from Peter Neceda (who told us "I can hardly express my gratitude") using Power Translators. View high resolution image



STEP robotics model imported by Mario Rothenbühler using Power Translators. View high resolution image

See

animation of this model!


Power Translators Customer Quotes
Jonas Ahnme: "I would like to say that you have an awesome product. It's a great feeling to be able to open 3dm files directly from 3ds / Viz, after a couple of years of exporting meshed 3ds objects, and failing IGES geometries from Catia to Viz. The Brep wireframe looks a lot better than the default Viz wireframe, and for some reason I feel it's easier to pick the right objects with the Brep wireframe."

Richard Toften: "Your plug-in is fantastic and I use it all the time, importing from Catia... Thanks for providing such a useful tool!"

Joel Fazzi: "What can I say?...........................It is incredible, you're making us look good out here in the 3d world with minimal effort, I love the new stuff!; there is nothing I can throw at this that it can't handle."


About nPower Software
nPower Software LLC is a company founded by IntegrityWare, Inc. (www.IntegrityWare.com) employees to market the superior technology developed by IntegrityWare over the past 7 years into the end-user graphics plug-in market.

nPower Software Contact
David Gill, VP of Product Development
858-538-3083
DGill@nPowerSoftware.com

About Datakit
Datakit just celebrated its 10 years of experience in developing Data Translators. (http://www.datakit.com)

Its strategy is based upon its capability to provide and support powerful libraries to the major software companies.

It perfectly matches 2D, 3D, Wireframe, Solid, Surface, FD&T, Machining Features, History Tree, Piping, Harness …

With more than 120 data converters or plug ins, it succeeds to meet the needs of the most demanding companies.

Datakit Contact
Francis Cadin, Datakit Manager
contact@datakit.com